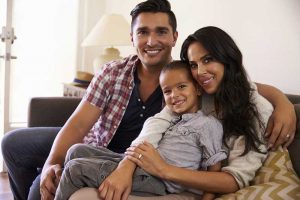 Trauma and Hope Home Based Services guide children, youth and families to discover the perspective and coping skills needed to adapt to life's challenges. Through in-home counseling services and other support, families discover new strengths and skills to become more resilient in the face of change and hard times.
Trauma and Hope's Process of Home Based Services
Home Based services include culturally and developmentally appropriate assessments, personalized treatment planning, and individual and family therapy services for a wide range of intensive mental health concerns. These include family relationship issues and difficulties with children and youth behaviors that cause them to be at risk of leaving the home. Services vary based on each family's situation and can includes individual and family counseling services and crisis intervention
​Eligibility
Trauma and Hope provides many services for children, families and teens. Home Based services are offered in your home and other convenient locations. Services can be approved by the Children's Service Act (CSA) which Trauma and Hope is an approved provider in Loudoun, Alexandria, Prince William and Manassas City.